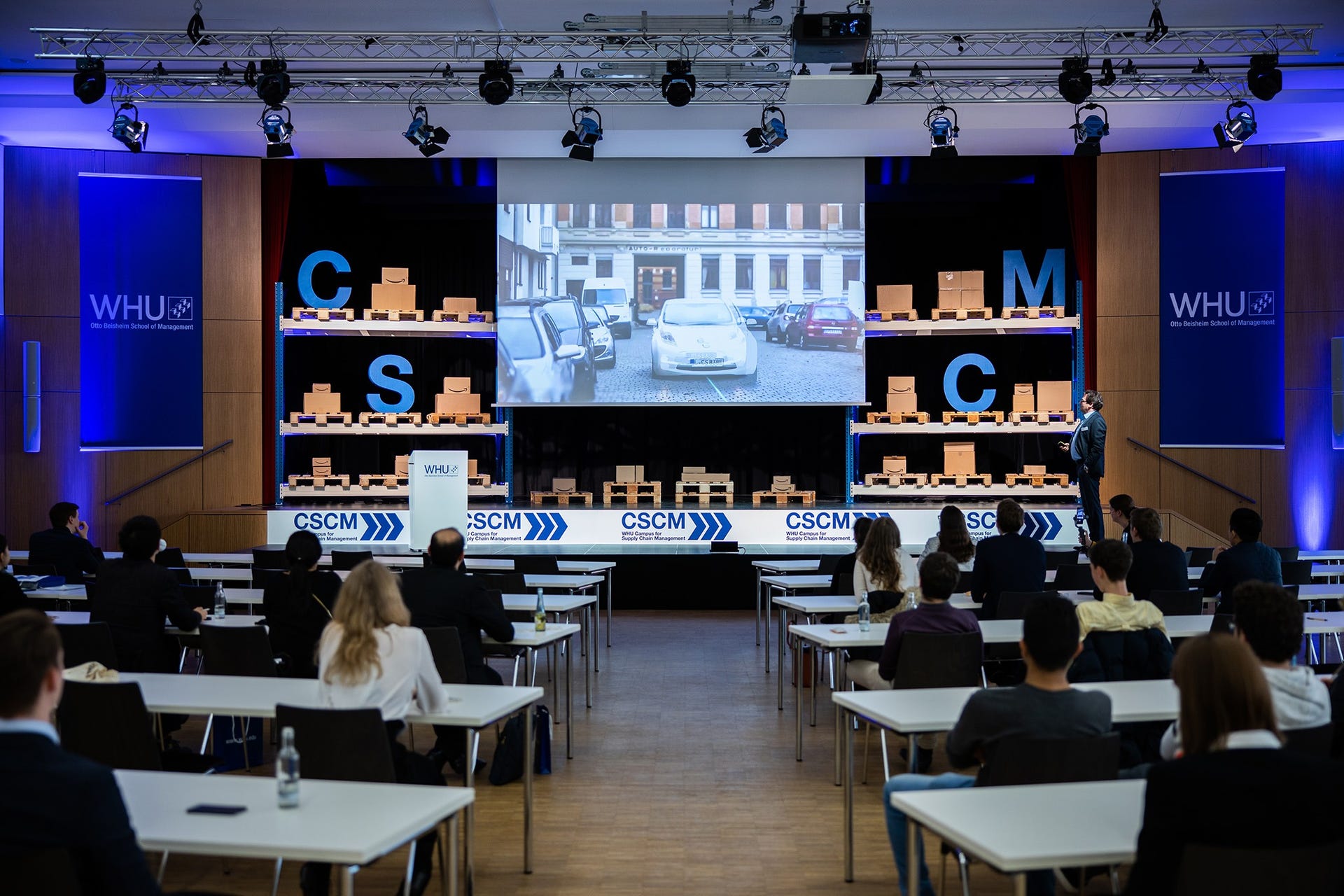 Our Sponsors
We would like to thank every company and organization that supported the WHU-Campus for Supply Chain Management 2019!
Amazon, founded by Jeff Bezos in July 1994, is an American electronic commerce and cloud computing company based in Seattle. Amazon is the world's leading online retailer and operates the globally most frequently visited online shop. The company is not only considered as the fourth most valuable company in the world with a stock market value of around 570 billion Euros but also as one of the most innovative companies worldwide. With around 500 million delivered products in Germany last year, Amazon overcomes major logistical challenges. Due to that, Amazon keeps creating new innovative ideas changing global commerce significantly.
Strategy&, which is a subsidiary of PricewaterhouseCoopers, is a globally active consulting firm which is active in a very wide area of sectors, including Financial Services, Automotive, Aerospace as well as Technologie and Fast Moving Consumer Goods. Besides having their Headquarters in New York, Strategy& has 72 other offices all over the world and generates more than 1,3 billion dollars in revenue (2011). Strategy& has a total of 3 thousand strategy consultants operating together with about 250 thousand PwC professionals in 158 countries and 736 offices. As the only at-scale strategy business that's part of a global network with deep and broad capabilities expertise, Strategy& combines their strategic foresight with the experience of frontline teams across PwC to transform perspective into pragmatism, and ambition into action.
Inverto is an international business consultancy and one of Europe's leading specialists in strategic procurement and supply chain management. The company's services range from identifying and assessing the potential for cost reductions and improving performance, implementing strategies on site, through to optimizing the entire supply chain. As subsidiary of the Boston Consulting Group, Inverto helps companies to become more efficient and stay competitive. Their customers include international groups, leading medium-sized companies from industry and trade and some of the world's largest private equity companies. Inverto's current workforce includes 180 employees and has 6 locations in Cologne, Copenhagen, Shanghai, Munich, London and Vienna.
CAMELOT Management Consultants, founded in 1996, is one of the globally leading consulting specialists for value chain management. 320 consultants work directly with Camelot Management Consultants and around 1,400 consultants are employed in Camelot's partner organizations. By delivering innovative concepts and solutions along the entire value chain, they sustainably improve their clients' performance and market position, from strategy to measurable results.
Founded in 2014, Seven Senders combines broad practical knowledge of the European last mile carriers with technical expertise in logistics and product management to help merchants deliver their parcels quickly, economically and with a local presence. Seven Senders accumulates data from millions of parcels and analyzes their ever changing tracking states, providing the market with continuous monitoring and tracking solutions. The result is a holistic logistics control center that works for all merchants no matter whether you actually ship the parcels with SEVEN SENDERS or any other parcel service provider. The company currently has 74 employees and is located in Berlin.
Founded in 2016, InstaFreight is a B2B digital forwarding company that works as a one-stop shop for road freight. The company, which is stationed in Berlin, targets commercial customers and offers them a click & buy experience with instant pricing and allows for a fast and convenient booking experience online. InstaFreight enhances transparency via track & trace and makes logistics more efficient for both, shippers and carriers. InstaFreight has a workforce of 72 employees achieving an On-Time delivery rate of 98,4% on 30000 orders.
Selection of Previous Sponsors
Arvato (Bertelsmann)
Arvato, the largest division of Bertelsmann, provides several services all over the world. Currently, 70,000 employees in more than 40 countries work together in fields like customer relations, supply chain management, finance and IT.
DHL
DHL is present in over 220 countries and territories across the globe, making it the most international company in the world. With a workforce exceeding 340,000 employees, they provide solutions for an almost infinite number of logistics needs.
FreightHub
FreightHub is building the digital backbone of global trade! Through an online-based platform, you can quote and book Sea-, Air- and Railfreight shipments in real-time. A holistic Track & Trace system offers end-to-end visibility and together with a document management system the perfect way to control your supply chain.
UPS
United Parcel Service (UPS) is the world's leading transportation and package delivery company. With more than $61 billion in revenue and 434,000 employees, UPS is also the largest supplier of global supply chain management solutions.
Prokura
Prokura is a young consultancy company founded in 2008 specialised on purchasing and supply chain. Prokura is led by highly-experienced experts and has already become a key player in the market, creating significant savings for leading private and public organisations in Nordic countries.